Sometime back in the Saudi capital of Riyadh something really astonishing and delightful happened on a normal day a cleaner who had been working was photographed staring at the ornaments at display of a jewelry shop by a passerby and his pic was shared on Instagram and other media outlets with a mocking title as  "he looks as though he is seeing trash".
This action infuriated and brought in an outpour of support for the cleaner and a 38-year-old businessman named Abdullah al Qahtani started a campaign to locate the cleaner the businessman also owned a Twitter account named  Ensaniyat (humanitarianism) and shared the pic on this account in an effort to locate him, within hours his tweet was retweeted 6,000 times and he received hundreds of phone calls regarding the issue.
Finally, some users were able to locate the location from the reflection on the glass of the store and finally the cleaner as Nazer al-Islam Abdul Karim who was from Bangladesh and had been working as a cleaner in the municipality. Soon the cleaner realized that the unusual flash he felt, which was at the time of the taking of the photo by the other person had made him be noticed by a lot of people.
SEE ALSO: Yesterday's loss of facebook are as if 4 twitters and 7 snapchats got wiped out 
later he was brought ornaments and given lots of money by the campaigners, that's not all as he was located Qahtani received a lot of calls from people for helping them to get in touch with him "Some wanted to donate gold sets, others cash, iPhones and Samsung Galaxy phones," al Qahtani said. "Even a rice company wanted to donate rice bags to Nazer al-Islam."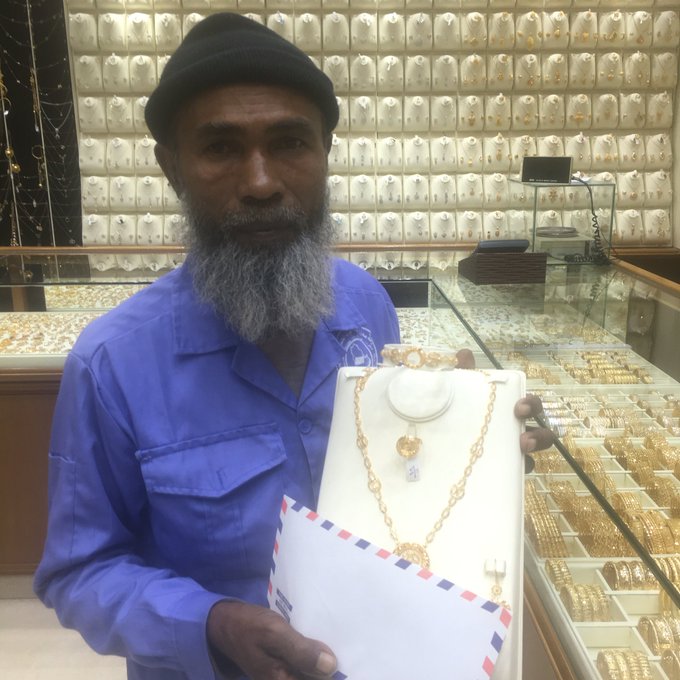 Eventually, more pics of him receiving gifts and ornaments were seen and even Turki al-Dajam, an executive at a Saudi sports channel, posted videos on Snapchat showing Abdul Karim choosing a gold set. He also posted photos of the cleaner with his new gifts.
Al Qahtani — who set up the Ensanyat Twitter account to connect social media users with people in need across Riyadh — said it was very endearing to see not only the amount of solidarity from people in Saudi Arabia but also across the other regions this story seems to be a fantasy for some but in reality it is an endeavouring expedition of some braveheart men who are keen for upliftment of other's around them.
(All the views, opinions and information above are author submitted if you have any complaint please contact us)
Sources/references
CNN and as featured on relevant news networks.