A teenager who attached uplifting messages to a bridge saved six lives in Sunderland
(PIC: NORTHUMBRIA POLICE)
Teenager's bridge notes 'help save six lives' in Sunderland
This really inspiring story comes from last year when Paige Hunter, 18, tied more than 40 notes to Sunderland's Wearmouth Bridge.
One note said: "Even though things are difficult, your life matters; you're a shining light in a dark world, so just hold on."
Northumbria Police Chief Superintendent Sarah Pitt said it was an "innovative way to reach out to those in a dark place".
She said it was important to encourage people to speak out about mental health problems, adding: "Paige has shown an incredible understanding of vulnerable people in need of support.
Paige Hunter attached more than 40 notes to Wearmouth Bridge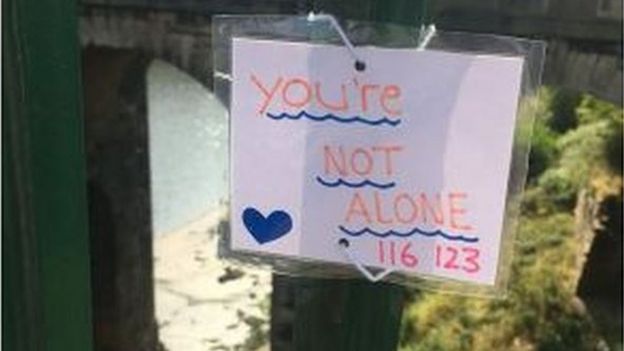 "For somebody so young, Paige has shown a real maturity and we thought it would only be right to thank her personally.
Wearmouth Bridge crosses the River Wear near Sunderland city center.
The East Durham College student was given a commendation certificate from the force.
"It's just amazing, the response it has had. I wasn't doing this for an award; it was just something that I wanted to do."
Paige said: "Since I put the messages up I've had a lot of comments from people. They've said it's been really inspiring.